Mauritius ... Sugar, spice and all things dodo
Located in the midst of the Indian Ocean just north of the Tropic of Capricorn, Mauritius is an independent island nation. Before its independence in 1968, it was once a Dutch territory, then a French territory and finally a British territory. Its people are multiethnic, multireligious, multiculturaland multilingual ... and thoroughly delightful.
Capital: Port Louis, also the country's largest city
Population: ~1.2 million
Area: 790 sq mi
Currency: Mauritian rupee
Passage Stats:
Miles planned: 350 Miles sailed: 372
Total passage time: 3 days, 13 hours
Average speed: 4.4 (ouch! ... how slow can you go?)
Our first day in any port is usually spent getting our bearings and walking around. Port Louis, the capital city of Mauritius, is vibrant, high energy and offers lots to see and do. There's eye candy everywhere you turn. After small, laid-back places like the Cocos and Rodrigues, mooring in the heart of the city is a fun, pleasant change. We set out on foot mid-morning, walking down the Caudan Waterfront, a huge, modern esplanade lined with upscale eateries and boutiques.
The days were warm and sunny and walking was a pleasure after being captive aboard Cups for a few days. The pace in the city is frenetic. Heavy, fast-moving cars, motorbikes, trucks and bicycles whiz along streets crowded with pedestrian traffic that overflows the narrow sidewalks. Wherever there is a bit of space, a vendor has spread his wares or offers street food or hawks his services.
The Central Market, originally built in 1844, is chock full of fresh veggies and fruits, spices and teas, all artfully displayed. Upstairs on a mezzanine level, there are "crafts" vendors (souvenirs) and outside the perimeter of the market building, there are vendors set up under tents and tarps with narrow paths between them selling everything from hubcaps to clothing to pots and pans to batteries. It's crazy and frenzied. Everyone is shouting their prices and promotions. People are darting in and out and around...a pickpocket's heaven.
We were certainly cognizant of dodo birds (Raphus cucullatus) before we arrived in Mauritius. Dodos are probably the most well-known extinct bird there is … bringing the phrase "dead as a dodo" to mind. I guess we didn't realize, however, that they were endemic to the island of Mauritius. A large, flightless bird, the dodo had no natural predators on Mauritius, so the species flourished. Once the Europeans arrived with rats, dogs, pigs and other predators which attacked the dodo as well as its ground nests and eggs, the poor bird was doomed. The dodo became extinct sometime in the late 17th century.
Dodos were huge birds … about 3 feet (1m) tall and weighing in around 30 lbs (14kg).That's a big bird...about the size of a big tom turkey. The Mauritius Natural History Museum was a good place to learn more about them. They have dedicated a room (albeit a small one) entitled "The World of the Dodo" with some bones and a fabricated dodo under glass based upon sketches by early Dutch visitors (1598). They named them as "walghvogel" meaning wallow bird or loathsome bird, referring to their taste. It only took about 60 years of man's presence to totally eradicate a bird that, in the whole world, only existed here.
The dodo bird might be extinct, but there's lots of evidence that it once existed here. It's a major theme throughout the island. From souvenirs and tchotchkes, to postage stamps, to matchboxes, to the Flying Dodo Brewing Company, and even the Mauritius Coat of Arms, there are iconic reminders everywhere of what once was. We looked for a dodo on velvet to bring back as a souvenir, but oddly enough, we never found one.
Hindu Temples & Grand Bassin
Hindus represent over 50% of the population in Mauritius. Most Indians have been here for generations, descendants of the the indentured laborers who immigrated here in the mid-19th century to work the sugar plantations. There are large Hindu temples in most every town and small temples along the roadside and in front of people's homes. There are several in Port Louis. In fact, one right next to the Immigration Square Bus Terminal. They are colorful, busy, intricate … almost to the point of garishness, but we find them fascinating.
Grand Bassin, a natural lake high in the hills of south central Mauritius, is sacred to the Hindus. Legend has it that the waters of the Ganges River in India flow under the ocean to Grand Bassin, known to the Hindus as Ganga Talao. We took an early morning bus to La Flora, then changed to a bus to Bois Cheri and then caught a collective taxi (shared rides) to the temple. It was quite cool after the heat of the city and it rained off and on during our visit. Figuring out where to go isn't a mystery. We knew we had arrived when we saw a huge statue of Shiva, the supreme being in the Hindu religion.
There are temples all around the lake and we just followed the path to visit them. There are few restrictions for visitors. Remove shoes before entering a temple. No consumption of alcoholic beverages in the area. Be respectful of the temple and those praying. Otherwise, we were free to wander, observe and learn a bit.
We walked along the lake's edge keeping a respectful distance from those worshiping. We caught the scent of incense burning and we could hear a mantra, chanted over and over. The lake was calm and still and the place was peaceful and serene. There were small altars all along the edge of the lake. Several had offerings called prasada on them. Placed on a banana leaf, the offerings we saw consisted of fruits, coconut, flowers and sweets.
A Hindu pandit (priest) approached us and asked if we would like a blessing. David deferred, but I needed all the blessing I could get. He applied a "tilak", a red Hindu religious symbol on my forehead, then placed his hands on my head and blessed me and my family, asking for peace, safety, harmony and prosperity. I took this blessing as a positive sign for our upcoming passage. We are not religious, but I'm interested and respect the way different people practice their religion.
Black River Gorge National Park
Our visit to Black River Gorge National Park high in the hills of Mauritius wasn't exactly planned. It's a long story and if you want the details, check out this blog entry. Otherwise, we'll cut to the chase with the highlights of the park and our accidental island tour compliments of a fast-talking, prevaricating local.
We continued along, our newly acquired tour guide, Robin, providing commentary as we went. As is many times the case, what is viewed as particularly special on a little island is not necessarily a unique world class site/sight. The "Earth of Seven Colors" at Chamarel was interesting and scenic. Had we never seen the Painted Desert, the Badlands or Yosemite's colors, we might have been impressed, but we had seen them and Charmarel paled in comparison.
Our "host" drove us here and there, hitting all the tourist spots ... whether we were interested or not. After many waterfalls, vendor stalls selling Chinese-import trinkets and "views like you've never seen before", we were deposited, as promised, back at the marina.
Bois Cheri Tea Factory
Before we headed off on our accidental tour of the national park, we had intended to visit the Bois Chéri Tea Factory, the first tea plantation in Mauritius, dating back to 1892. We were obviously sidetracked, but we decided to make the one-hour bus trip again, now that we had the route figured out. We were advised to visit early in the day as most of the "action" takes place in the morning when freshly picked tea is brought in, machines are in operation and the workers are busy doing tea processing things.
The guided factory tour lasted about 20 minutes and provided information about tea processing from picking to withering to cutting, fermentation, sorting and packaging. It's a small operation and although machines are used, the processing is still extremely labor intensive. There was a small one-room "museum" which offered a bit about the history of tea and its arrival in Mauritius. There used to be several plantations, but now only a couple. Mauritius can't compete with world markets. What they grow now is primarily for domestic use and small export quantities to Reunion Island and France. There was lots to learn. For instance, the Chinese are credited with discovering and developing tea as a beverage as early as 3000BC. Originally used as a medicinal drink, tea later evolved into a culture all its own. Lu Yu, is considered the Sage of Tea, having written The Classic of Tea (in Chinese Ch'a Ching – really?), around 760 AD, the first definitive work on cultivating, making and drinking tea. The Portuguese picked it up while visiting China and they brought it to the UK.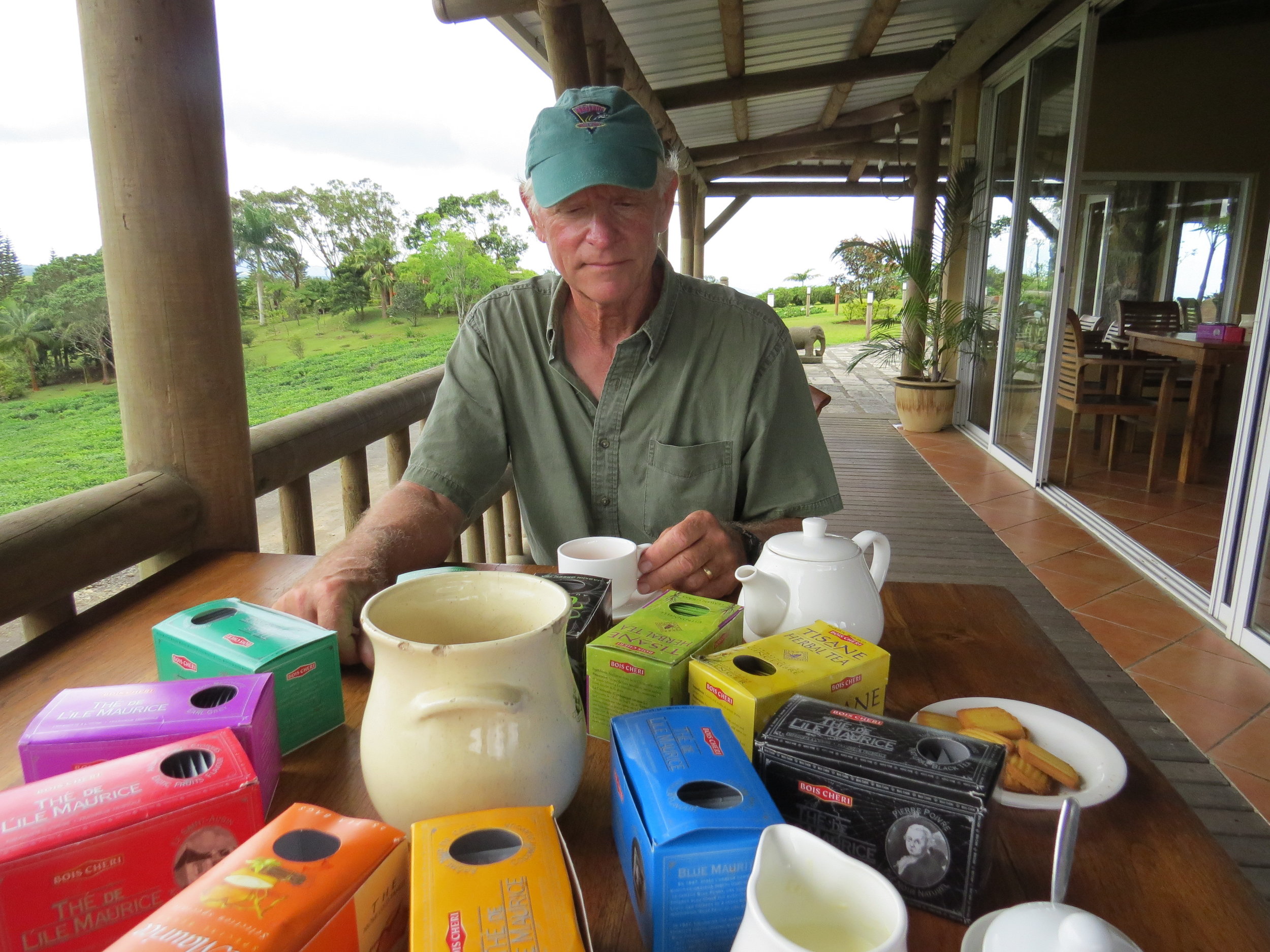 Tea is the second most consumed beverage in the world next to water and the Irish are the biggest tea consumers per capita in the world. An Irish-American, Thomas Sullivan, is credited with inventing and patenting the first tea bag.
We enjoyed a sampling of Bois Cheri teas at their gorgeous tea house and then enjoyed a sumptuous, gourmet lunch.
Off to the Races - Champ de Mars
The Champ de Mars Race Course in Port Louis (not Paris) offers thoroughbred horse racing every Saturday from March till December. It's the oldest race track in the Southern Hemisphere and the second oldest in the world according to what I've read. It celebrated its 200th birthday in 2012. So instead of doing boat work on a sunny Saturday afternoon, we opted to take a long walk over to the race course.
We arrived at the race track around Noon and thought we were early, but it was crowded already. We bought our tickets: David 175Rps (~$6). Only men pay. Women enter for free. When we passed through the gates, we were amazed at the open-aired interior … behind the stands. It was like an oasis. Huge ficus trees shaded the area and beyond all the betting booths, there were all sorts of small restaurants, places to sit and eat and drink. The crowd milled around. It seemed a festive occasion.
The horse-racing was great and quite a different excursion for the day. We were invited by the racetrack staff to share a Visitor's Box, so we were quite comfy … out of the sun, with great views from the third level. An attentive Indian fellow, dressed in a business suit, checked in on us frequently and asked if we'd like a tour of the paddock area. Well, sure. Why not? We met the GM of the racetrack along the way and had a nice chat. We had no inkling why we were afforded such amenities and special treatment. We don't look rich, however we had taken showers earlier. We didn't question it ... just went with the flow and smiled.
Sir Seewoosagur Ramgoolam Botanic Garden
The bus system takes you everywhere on the island. We could venture to Riviere des Anguilles (River of Eels), or Flic en Flac (??), Cap Malheureux (Cape Unhappy), Trois Mamelles (Three Udders) or Poudre d'Or (Gold Dust). In the end, we chose Pamplemousses (Grapefruits) because there were two places we wanted to visit there … the Botanic Gardens and L'Aventure du Sucre, a sugar museum.
These gardens are certainly not the largest or most elaborate we've seen, and not much was in bloom though it's springtime here. Still, we enjoyed the peace and quiet as we walked along the garden paths. There was a pool of giant Amazon lily pads, but the delicate lotus blossoms stole the show. There were lots of birds around, as you can imagine. We could hear the chorus of song all around us. At one point, I saw a large flock and wondered what they were until we determined that they were not birds at all, but rather flying fox, aka fruit bats.
L'Aventure du Sucre
After a pleasant few hours in the garden, we walked the 1.5km to L'Aventure du Sucre, located on the grounds of the original Beau Plan Sugar Estate. Originally discovered by the Dutch in 1598 and named Mauritius after the Dutch Prince Maurits, the Dutch introduced deer and sugar cane and then abandoned the island for more lucrative interests in Java. The French took over in 1715, renamed the island Ile de France and developed both the infrastructure of the island and the sugar industry, importing thousands of slaves to work the sugar fields. Sugar quickly became the mainstay and the island flourished. The British invaded with an overwhelming force and took control of the island in a most courteous way in 1810 and renamed it Mauritius once again. The development of the sugar industry spurred the development of the culture of the island.
We wandered and read and wandered and read. The museum was placard-reading intensive. We finally ended up in a small boutique area with sugar and rum tastings. Who knew there were so many types of sugar out there? We certainly didn't. We were offered twelve different types of unrefined cane sugars to taste … from fine golden caster, to demerara, to dark muscavado and molasses sugars to coffee crystals and raw sugar. We chewed some sugar cane. We tasted several types of rum and felt unbelievably mellow afterward.
It was mid-afternoon when we emerged from the museum and tastings, and the estate's restaurant, Le Fangourin, looked very appealing. We settled at a small cafe table under an umbrella with the sugar mill behind us and lawns, gardens and mountain views in front. Birds chirped and flitted about. Light jazz was playing in the background. Lunch was wonderful, but the dessert that followed was to die for … a bananas flambe with a rum sauce made from the local rum and a caramelized sugar decoration on top. Good enough to eat!
After nearly two weeks in Mauritius, it was time to head out. Our 14-day visas were expiring and it really was time to cross the rest of the Indian Ocean. We'd had plans to stop at Reunion island, but we were following the ARC, a world cruising rally, and word from Reunion was that the island was still recovering. Instead, we headed directly for Durban, South Africa. Waiting for Neptune to offer a reasonable weather window was an exercise in patience, but finally we were ready to return to the sea once again.